The town is the home of the administrative centre for the Runnymede Borough Council. Runnymede is universally known as the place where King John was forced by his Barons to apply his mark (he was unable to write his name) on the famous document Magna Carta, which is the basis for the country's Constitution. Runneymede itself is an area of land on the south side of the River Thames between Egham, in the east, and Windsor, in the west. This is a popular place, especially in summer, picnics. The town has a population of some 11,500, and is a thriving small town which is just starting to benefit from a redevelopment in the town centre provided a shopping mall, an hotel, a cinema and a number of residential apartments.
A Potted History:
Addlestone used to be part of the much older town of Chertsey, which lies to the north. Presumably Addlestone became separated from its 'parent' as it grew larger and so became an independent community. Strictly speaking, it is still a village, not having been granted a Charter to hold a market, but due to its size it is referred to as a town. The oldest 'resident' in the town is The Crouch Oak. A branch needed to be cut off the main trunk and this has been dated as being formed in 1670, but of course the main trunk is much older. It was long known as Wycliffe's Oak after the famous medieval Biblical scholar who is reputed to have preached here. In 1872 it was definitely the scene of a sermon preached by the theologian Spurgeon. It is also reputed that Queen Elizabeth I picnicked under it.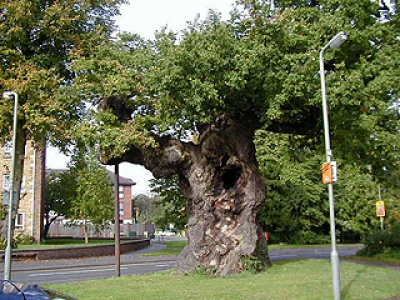 In the time of both World Wars Addlestone was associated with the manufacture of aircraft. One manufacturer was Bleriot who had its factory on the eastern side of the railway. After the first War the factory was used to build the Bleriot-Whippet Cycle-Car, the Eric Longden small car and various light aircraft; these were followed by buses, ambulances, etc, by Weymanns Motor Bodies. Throughout the town there have been houses occupied by well-known politicians etc. The first true canal to be built in Britain, the Wey Navigation, opened in 1653, runs to the south of the town; it starts from the Thames at Weybridge and goes to Guildford and beyond. Its building enabled river traffic to avoid the River Wey's meander., and it now popular with leisure boating. Towards the eastern end of the town is the Wey Navigation at Coxes Lock, Here there is a complex of three mills, collectively known as Coxes Mill, or Coxes Lock Mill. These originally were water powered from the Navigation, and there is a large mill pond feeding the supply to the mill. The mills were initially used (from 1783) as an iron foundry, but later became used for flour milling in 1829, which ceased in 1983. They have since been converted in apartments.